Welcome on the new Eremyten Hof website!
Eremyten Hof is a place you can call home. It doesn't matter if you're staying just for one night or a whole week, if you're wearing your hawaii shirt, if you're visiting us as a tourist or for business: you're welcome. We've opened up our house for work and pleasure, and in the near future we'll be working on new initiatives such as coworking / education initiatives, small-scale meeting spaces, training, live streaming etc.
Keep an eye on our updates!
A place to love
This place is full of stories. In its original state, the main building dates from 1798, and it's one of the few very early constructions of this village that can be found on old maps. The century-old beech trees surrounding the house are probably as old as the house itself. On the first floor of both the main building and the carriage house, we have 7 guest rooms in total. On top of that, we sacrificed our living room to turn it into a cosy meeting room, where small scale round table meetings, training courses, live streams, discussion nights can be organized. Always in a discrete setting and in a cosy atmosphere: just the way we like it ourselves!
Cosy rooms
Expect spacious rooms with classic furniture and a rustic touch, but with a decent 21st century wi-fi connection. Each of our guest rooms is a room with a view: a view on the park garden, a view on the pond with the geese,... Nature and comfort go hand in hand at Eremyten Hof. Chilling out under the patio, reading a book in the sitting corner, enjoying a glass of wine in the inner garden,...: yes of course, please make yourself at home.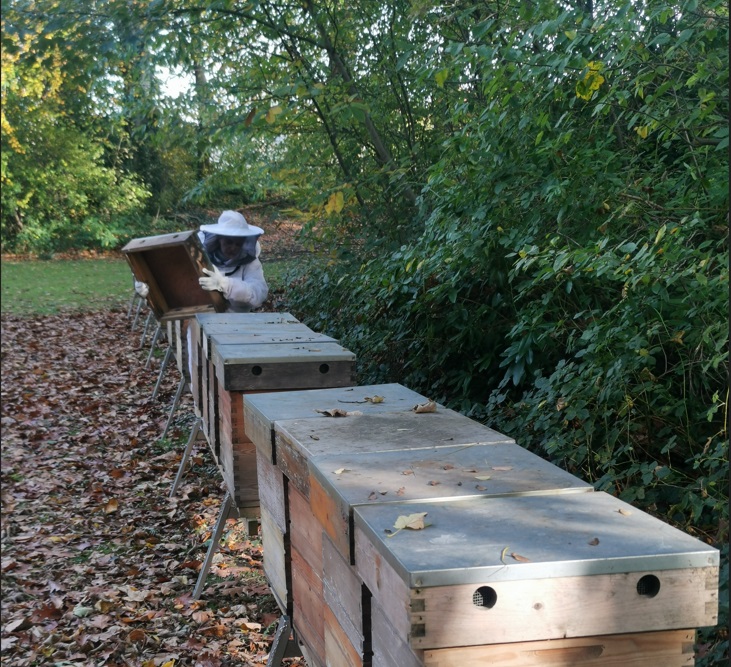 Between the trees
If you want, you can go for a stroll in the park garden. You're under watch though, 'cause we have an army of people-friendly geese on our payroll that's keeping an eye on all 'moving objects'. Feel the forest soil under your feet and enjoy the scent of our thick-stemmed beech, oak, acacia and chestnut trees. You might even be lucky to see the beekeeper in action; the honey we serve for breakfast is as local as it can be :)
About us
EREMYTEN HOF is located on a terrain of approximately 18000 m². It is located in Evergem, a rural village at only 4km distance from the medieval city of Ghent. In its current state, the building dates from the end of the 18th century, but parts if it are probably up to 150 years older. The word "Eremyt" in the name Eremyten Hof refers to an ancient Dutch word, and means hermit.
The park that surrounds both buildings is a great example of a landscape garden with a large pond and trees that are over 150 years old. The buildings are completely renovated. From the windows of every room, you have a great view on the garden or the pond.
Eremyten features a spacious, discrete parking. We are ideally located: on walking distance there are different public transport options by train, bus or tram. Line nr 1 takes you straight into the medieval city centre of Ghent. By car, you reach the R4 in less than 5 minutes; this ring road connects with both the E17 and E40.
Each room has its own bath room and toilet, a flat screen TV and a decent internet connection.
Breakfast is served in the carriage house. For lunch or dinner we are happy to introduce you to one of the surrounding restaurants, several of them only on walking distance.
Discover the world of Eremyten Hof!